HEIDI'S BIER HAUS™ SLOT MACHINE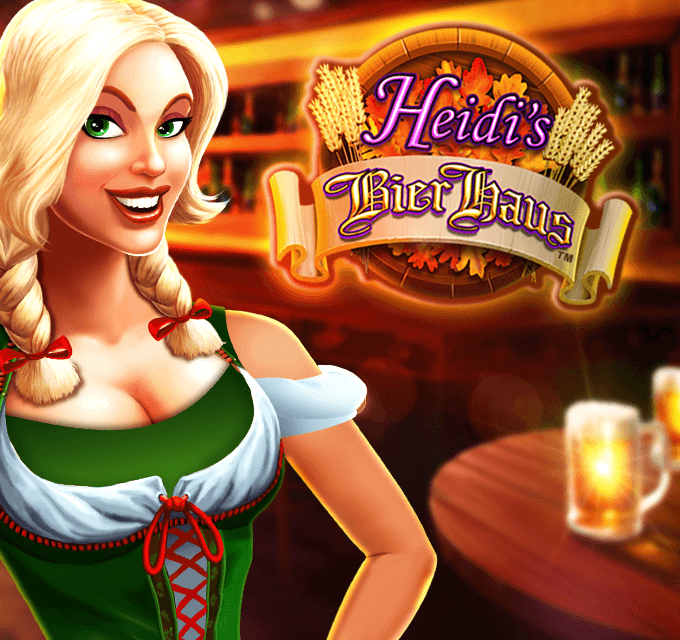 WHAT THE BIER HAUS – OKTOBERFEST SLOT GAME IS ALL ABOUT
Never miss out on Oktoberfest again! Celebrate the Bavarian beerhouse culture and all the fun and tasty treats it brings with a slot that's cooler than a frosty beerdrinking mug! Bier Haus is now better, bigger, and bolder than ever with the new Bier Haus – Oktoberfest Bavarian slot machine. 
The popular slot game features the beloved Heidi and her friend, Hans. They are here to serve you beer and entertainment, with bigger mugs and even bigger prizes. The game is designed in the spirit of a traditional German bar, which adds to the fun-loving atmosphere. You'll find pinecones, pretzels, accordions, and other fitting symbols that make you feel as if you're right there at Oktoberfest. 
Get ready, because this Bavarian Bierhaus Oktoberfest 2020 festival is like no other in the world! With fantastic new features, progressive Jackpots, bigger mugs, and even bigger rewards, playing the game feels like a visit to a Bavaria bierhaus and the Milwaukee Oktoberfest celebrations.
There's more fun to be had! Make sure to check out all our other slot games.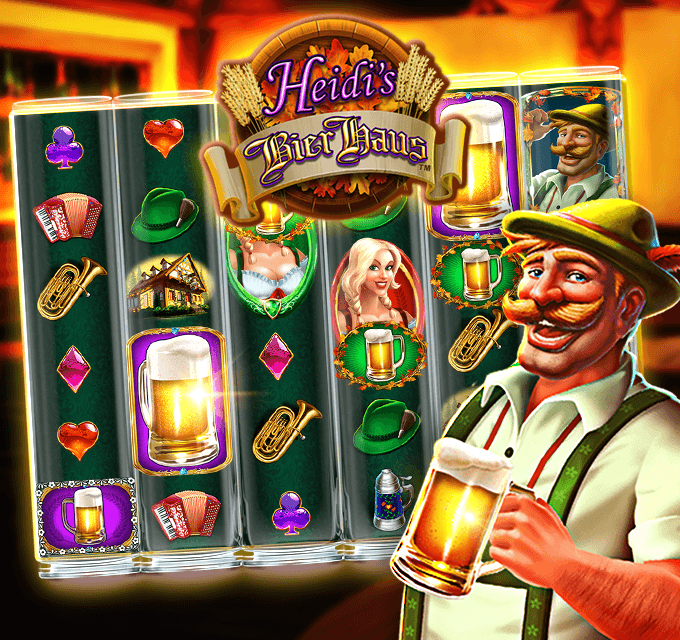 HOW TO PLAY HEIDI'S BIER HAUS™ SLOTS
5
CHOOSE "MAX BET" TO QUALIFY FOR JACKPOT
GETTING TO KNOW THE PAY TABLES OF BIER HAUS – OKTOBERFEST
Different symbols create a path to different rewards, and it's worth diving into this topic to understand what each symbol has to offer.
BIER HAUS – OKTOBERFEST BONUSES AND SPECIAL FEATURES
This Bavarian bier haus slot is full of fun and surprising features. Here are a few we think you'll love: 
THE RULES & REELS OF BIER HAUS – OKTOBERFEST
The game works like this: Heidi offers you a beer and the spin begins. As the taps fill your mugs, you'll see more and more beer mug symbols turn into other game symbols to form different patterns that can grant rewards. Check out the above list of features and bonuses to learn more about that. 
Symbols featuring Heidi's character appear in various colors, such as red, green, and purple. They will establish the special features that are activated as the spin ends. As you already know, five Heidi characters activate and Free Spins bonus, for example.
WANT TO START PLAYING BIER HAUS – OKTOBERFEST?
Bier Haus – Oktoberfest was perfectly adapted to fit today's advanced mobile gaming experiences. The gaming experts behind the app made sure that the gameplay and design work well on any device and put to use the most innovative mobile capabilities. Getting started couldn't be easier.
The Bier Haus – Oktoberfest app doesn't require any specific download or registration process, because it's waiting for you in one of SciPlay's fan-favorite games. You'll find the SciPlay's games at any prominent app store can start playing and winning right away. Bier Haus – Oktoberfest is ready to pour you a frosty beer mug without a tedious registration process because we want nothing to stop you from winning!